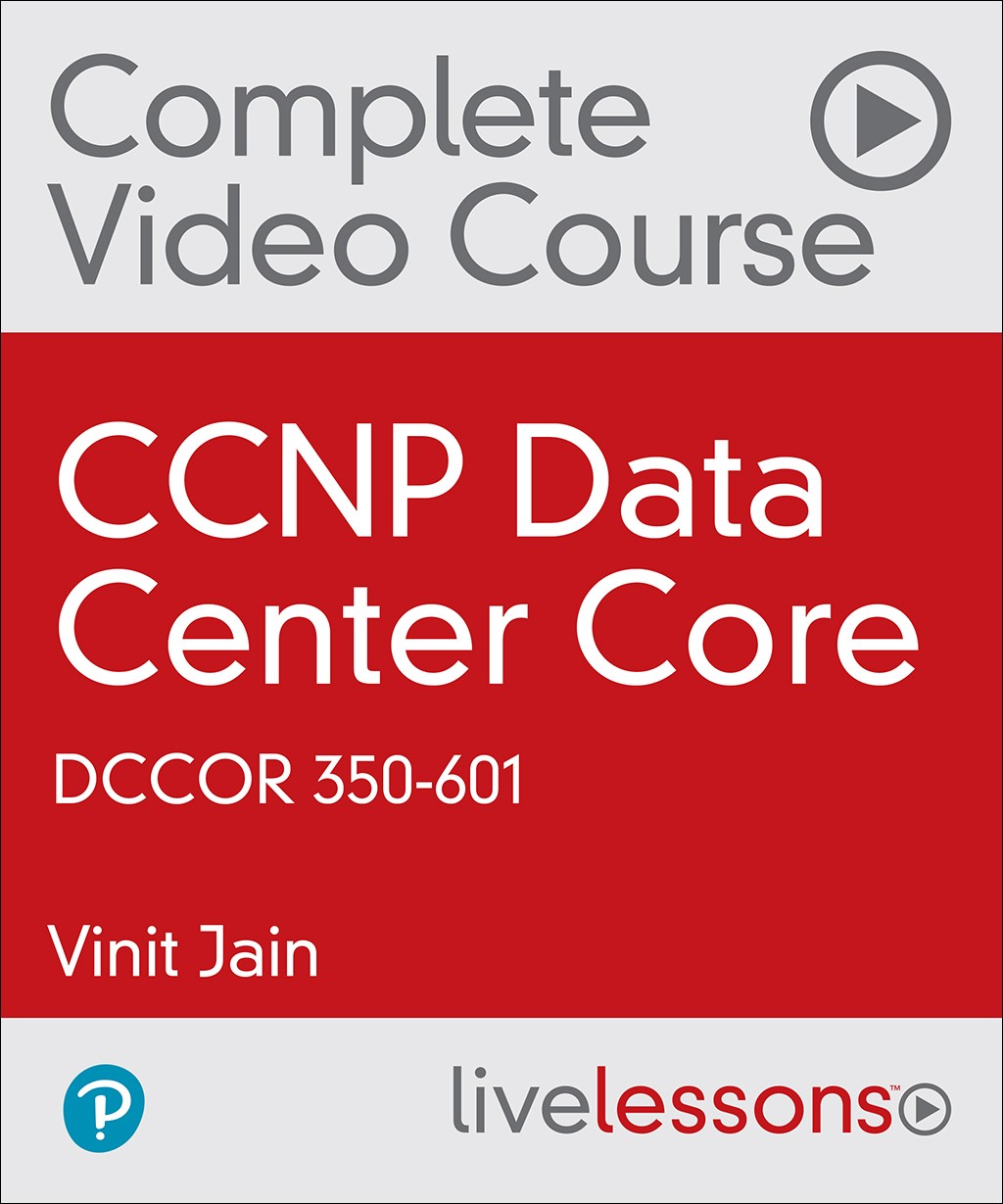 27+ Hours of Video Instruction
CCNP and CCIE Data Center  Core DCCOR 350-601 Complete Video Course
focuses on implementing and configuring Cisco Identity Services Engine for preparation for the
DCCOR 350-601
certification, and providing the necessary skills for real-world deployment scenarios.
Overview
CCNP and CCIE Data Center  Core DCCOR 350-601 Complete Video Course
focuses on a blend of the real-world experience and best practices mixed with the requirements for the
CCNP and CCIE Data Center Core DCCOR 350-601
exam. The goal of the course is to not only cover the objectives for the CCNP and CCIE Data Center Core exam, but also provide a solid learning resource for mastering key concepts regarding planning and delivering a Cisco Data Center solution.
CCNP and CCIE Data Center  Core DCCOR 350-601 Complete Video Course
is a unique and a complete video course that provides solid understanding of Core Data Center technologies as well as CCNP Data Center Core exam. This complete video course guides the viewer from an Introduction to the Data Center technologies such as Layer2 and Layer3 features, Overlay technologies such as OTV and VXLAN, Application Data Center Infrastructure, Compute with network and Storage management, Hyperflex, Security and Programmability and Automation. The key topics covered in this course will enable the viewers to understand and implement the key data center technologies covering network, Software Defined Data Center using Cisco ACI, Storage and Compute and finally automating the services in Data Center environment. The topics covered in the CCNP Data Center Core Technologies are the foundational topics for designing and implementing a Next Generation Data Center using Cisco hardware and Software.
Cisco Nexus OS (NX-OS) is a next generation modular software, primarily targeting Data Center networking, with the motivation to provide the key features of virtualization, high availability and upgradeability on Nexus line of products. The NX-OS software is used across all Nexus data center products which can run in standalone as well as ACI mode and as SAN-OS.
This complete video course is for candidates who can install, configure, and manage Cisco Nexus switches, Cisco MDS switches; implement and deploy automation of Cisco Application Centric Infrastructure (ACI), implement compute using Cisco Unified Computing System (UCS). This complete video course not only helps building the foundation for the CCNP Data Center exam but also prepares the candidates in their CCIE preparation.